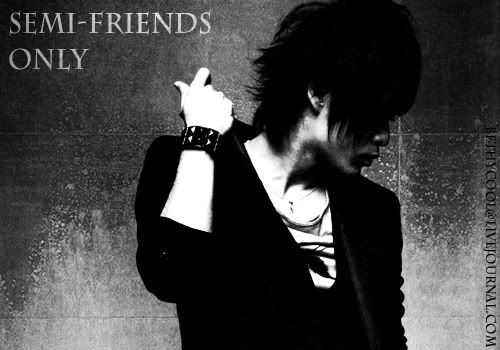 Welcome to
bethycool
's journal.
Here I love to post about how my day was and to talk about my favourite bands, music, TV shows and interests.
Some of my favourite things include the GazettE, HIM, 雅-miyavi-, NEWS, Nickelback, Big Bang, Glee, Asian musicians, Shounen-ai (boyxboy), reading, fanfics, languages, my friends, Derren Brown, Inception, Tom Hardy, English comedians (Russell Howard, Dara Ó Briain, Tim Minchin, Jason Manford, Michael McIntyre, etc.) and Top Gear...just to name a few.
I suppose a few warnings for the people who wish to friend my journal is that I fangirl...
A LOT
, and I like to talk crap - both bitchy and complete jumbled rubbish - and if you don't like it, don't complain about it. This is my journal and I can talk about what I want.
I also post my fanfictions, whom now have
an archive
however I wouldn't expect many updates on chaptered fics I'm terrible at updating and keeping motivated. I have recently started uploading music, PVs and movies, so I made a masterpost and
here
it is.
Please refer to
this post
if you have added me and I have not added you back.
These fanfictions and anything related to them will be
unlocked
.
Music and video downloads will be
unlocked
.
All my personal thoughts and everything but fanfictions and downloads will be
locked
.
This journal is semi-friends only.
Current Mood:
happy